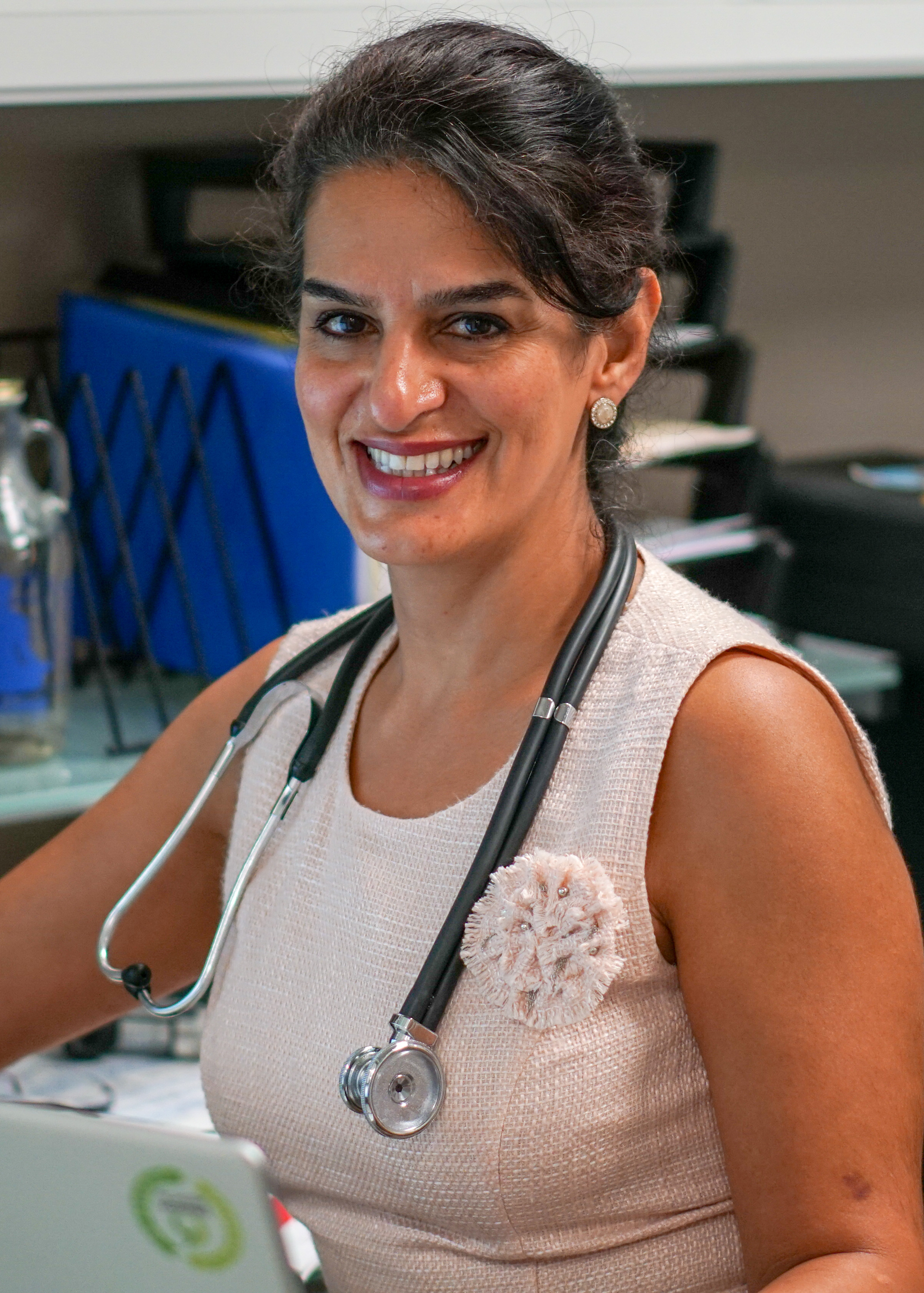 Dr. Maryam Zarei
If you have never seen a Vegan Allergist, you probably have a lot of questions so here is my journey…
I often get asked why I chose the specialty of Allergy.   Many patients and even other physicians are unfamiliar with the extent and the breadth of the services we offer, partly because this specialty was established not too long ago, in 1971, as one of the 24 medical boards.
When folks ask me how I became an allergist, I point to the famous Chinese proverb "A journey of a thousand miles begins with a single step."  My first step goes back to a childhood where my parents instilled the love of learning by example.
My mom taught language arts and loved reciting songs and poetry around the house, and my dad was the hardest working man I knew, a self-made teacher/principal, who left his small town and family of farmers to move to the big city (Tehran, Iran), where with my mom, he established his k-12 school.  Together they raised 5 kids.  Their primary focus always was to find the best education for their kids.
I spent many days playing at our school, wandering into the "off-limits" science labs, captivated by the hanging human skeleton models.  After my parents, my beloved chemistry teacher in 6th grade instilled the love of beakers, measuring cups, and chemistry experiments in my heart.
In 1986, due to the surmounting political unrest in Iran, we had little choice but to immigrate.   We moved to the "Athens of the Midwest" Iowa City, a hip university town, where I began high school.   I continued to college, where I received my bachelor's degree in Microbiology with Honors in Immunology at the University of Iowa in 1992.
On the advice of a counselor, I started volunteering at the University of Iowa Hospital. The pediatric oncology ward needed staffing and I loved kids having spent plenty of time babysitting and working as a summer nanny through college. I was fascinated by the mystery and the magic of the human body.   The immune system was so intriguing with its power to heal and destroy.  I started to feel comfortable hanging out in hospitals, talking to patients, nurses, and doctors.
Professional Societies
Past president of The San Diego Allergy Society
Fellow of the American Academy of Allergy Asthma &  Immunology since 1999
Member of San Diego County Medical Society since 2001
In college, a researcher in the field of prostate cancer, Dr. David Lubaroff, Ph.D., gave me my first laboratory opportunity, to study prostate cancer immunology and immunotherapy.  I was smitten with medicine so at the age of 19, I moved from Iowa, to the big city of brotherly love, Philadelphia, where I started at The Medical College of Pennsylvania. In 1996 I moved further west to California to do a Residency in general pediatrics at the University of California, Irvine.
During my internship at UCI and Long Beach Memorial Hospital, I met another great mentor, Dr. Steven Meltzer, an attending who happened to be an Allergist.  He was the first doctor I met who used humor plus the art of medicine, to tackle many diseases (in 1998 I watched Patch Adams, maybe the 2nd doctor with humor, played by Robin Williams).  He not only cared about the immune system and the lungs, and multiple other organs,  he really also focused on the overall well being of the entire person and their family. This was long before Integrative and functional medicine started to encourage practitioners to have a whole health approach.
Following Dr. Meltzer's footsteps, I did a fellowship, in Allergy and Immunology at the Center for Medical Education at Kaiser Permanente, in Los Angeles.  The great Dr. Michael Kaplan directed the program, with rotations at UCLA and Children's Hospital Los Angeles, and under his tutelage, I was the recipient of the First Place Clemens Von Pirquet national award for best research by a fellow, from the American College of Allergy in 2001.
On A Personal Note
San Diego became my new home, after marrying my husband, a Chemical Engineer and graduate of UCSD.  I began working as a full-time associate physician at Allergy and Asthma Medical Group and Research Center where I had an opportunity to take part in clinical research and community outreach and education.  This experience allowed me to work with multiple world-renowned, caring leaders in my field, like Dr. Eli Meltzer, James Kemp, Michael Welch, and Nancy Ostrom.  Once again I saw how these incredible doctors used humor, love and the most up to date scientific evidence to care for their patients.
In 2005 I got my best gift in life, becoming a mom of our twins.  I transitioned into the next phase of my life, as a part-time associate with Allergy & Immunology Medical Group working with another great physician, Dr. Robert Ziering, who exemplified how to be a fine doctor, and a father and family man.
In 2007, in search of more life balance, I took a big step of opening my own private practice, and have been fortunate to work with the same caring, passionate staff for over a decade.
My time off is mostly spent with family, staying active, or watching my 2 kids play soccer.  Like most people, I too struggle to learn how to be mindful.   My favorite activities are hiking, dance, and yoga, while meditation is a work in progress.
I am passionate about promoting proper nutrition and am on a mission to better understand the keys to reducing  disease and to promote longevity.  I am always in search of the next healthy vegan recipe to feed my family while hoping to minimize the damage to the environment.  I have been vegan since 2016, after taking a decade to better understand the proper role of nutrition in health. I am a proud member of the Physicians Committee for Responsible Medicine (PCRM), and Proponent of plant-based whole food diets.
I light up when I see my patients taking responsibility for their health, and consider myself extremely privileged to be part of the team that can help them regain their vitality and health.
I have come to learn that "Life is not a Journey to the grave with the intention of arriving safely in a pretty and well preserved body, but rather to skid in broadside, thoroughly used up, totally worn out, and proclaiming, Wow, What a ride!"  DC 76 years old
Languages Spoken: English, Farsi, Spanish
Ask Dr. Zarei A Question!